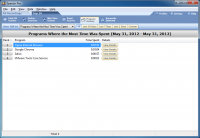 SpectorProWe all already got used to PC monitoring both at work and at home. Tools used for hidden computer monitoring – spy software, is other name for such kind of computer programs – are numerous and pretty commonly used. One of them, namely Spector Pro can be seen on a screenshot. Their functions vary greatly, depending on the purpose such products are applied for.
If used right, computer monitoring spy software can be really useful. Installing monitoring solution like All In One Keylogger, Spytech SpyAgent Stealth Edition, Elite Keylogger or any other one you like from our chart can help to prevent a lot of problems caused by improper computer and Web activity. Such software is a relief for ever-busy Moms and Dads who want to be sure that their kids use home PC for decent purposes only. Teachers at schools and colleges install spy software to ensure that it is work and nothing else that their students are busy with. Employers apply computer monitoring in order to guarantee employees' compliance to corporate security policy.
For legal reasons, users should never install surveillance programs on any computer they don't own. Invisible keylogger surveillance is violation of other people's privacy, if performed by a person who is not authorized to do so. When applying monitoring solution like screenshot recorder, invisible keystroke recorder or any other spy software, a PC owner should remember that installing a monitoring product on a PC that belongs to other person could be illegal.