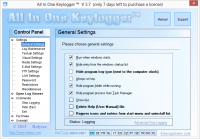 All In One KeyloggerSpy software products are now widely used for parental control, employee monitoring, Internet access control, etc. If installed remote, spy software turns into a powerful spy tool like All In One Keylogger (on the screenshot), eBlaster, Elite Keylogger or any other product listed on Keylogger.Org recording every PC user's action without their knowledge.
As a rule, spy software has built-in means of remote installation: a pre-configured module (agent) is installed into the target PC remotely. Then the files with obtained information are sent via local network or emailed to the person who installed the monitoring solution.
Please bear in mind that hidden computer monitoring is legitimate only when it is used by the owner of the computer or other person who has the right to do so. When applying computer monitoring spy software, especially with remote installation, a PC owner should remember that usage of spy software could be illegal if it is installed on a PC that belongs to other person.