Sometimes it is necessary to remotely monitor computer activity of a PC user. For example, law-enforcement agencies can issue a warrant for monitoring PC of a person who is, say, suspected of some serious crime.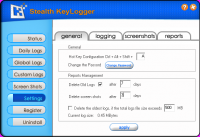 Stealth KeyloggerSoftware to be used for this purpose has built-in means of remote installation, for example Perfect Keylogger; as a rule, the pre-configured module (agent) is installed into the target PC remotely. Then the files with obtained information are sent via local network or emailed (like they are in PC ACME Pro, Spytech SpyAgent, All In One Keylogger, Stealth Keylogger (see the screenshot), Spy Buddy, Elite Keylogger, CyberSpy, WinSession Logger, ActMon Pro Edition, Spy Lantern Keylogger Pro, PC Spy Keylogger) to the person who installed the program.
However, remember that hidden computer monitoring is legitimate only when it is used by the owner of the computer or other person who has the right to do so. Computer monitoring shouldn't violate other people's privacy. When applying tools for clandestine monitoring like invisible keystroke recorder, a PC owner should remember that usage of keyloggers could be illegal if a monitoring product is installed on a PC that belongs to other person.