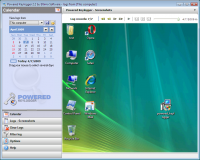 Powered KeyloggerSoftware called keylogger is not just keylogger as it used to be – now it has lots of functions available as well. A program by force of habit called keylogger actually is key strokes and mouse clicks logger plus screenshot recorder (see the screenshot) plus visited web pages recorder plus whatever else, depending on the purposes it is supposed to be used for.
Computer monitoring is pretty commonly used nowadays for a wide range of purposes – from employee monitoring to parental control. In a lot of cases it's necessary to record all keystrokes typed on a computer keyboard, for example, when the PC owner is out.
Monitoring e-mail, tracking Internet use, logging everything done at keyboards, say, at workplace or at school is a least-evil solution against omnipresent spyware; it is difficult to find a computer which is not contaminated with it. Besides, computer monitoring with ActMon Pro Edition, PC ACME Pro, Elite Keylogger, or any other powerful spy tool from our comparison table helps to prevent data leakage, which is extremely dangerous for those companies who possess valuable technologies, trade secrets, and know-how.
However, users should never install spy software on any computer they don't own. Invisible keylogger surveillance is considered violation of other people's privacy, if performed by a person who is not authorized to do so. When applying tools for clandestine monitoring like computer monitoring spy software a PC owner should remember that installing a monitoring solution on a PC that belongs to other person could be illegal.