Employee Monitoring Software
What is employee monitoring software?
Employee monitoring software is a special software that allows you to control your workers` activities during their working hours in order to detect the company sticking-points (non-purpose PC usage, leakage of confidential information, employees` fraudulent activities, etc.) as well as to optimize of the working processes. Experience shows that workers can spend good deal of their working time on social networks, games, watching different videos and visiting entertainment sites. Employee monitoring system enables the company executive or any other responsible person to analyze performance of a particular individual, the entire business unit or the enterprise in whole. Besides, the usage of computer monitoring software can be necessary in case your workers deal with commercially sensitive or another very important information. It doesn`t always mean distrust – confidential information leakage in some companies can lead to a catastrophe, especially when this information falls into the hands of the business rivals.
What are the purposes of using employee monitoring software?
To control the working time efficiency of your staff;
To keep an eye on a suspicious worker, whose activity triggers questions among executive management or security officials;
To quickly prevent a worker from malicious doings in relation to the company;
To investigate information security incidents.
The key focus of monitoring an employee's computer is control of the working hours usage, in particular control of the system's on/off, recording of keystrokes and mouse clicks, and tracking the apps running and Internet activity (web sites visited). Monitoring system on/off, keystrokes and mouse clicking keeps the company executive aware of the user's PC activity, including: worker`s coming to the workplace and leaving it, absenteeism and tardiness, excessive working hours, a total time of working on the computer, active or idle periods of time. However, this information itself doesn`t represent the broad picture of the employees` working efficiency. To identify the level of it, it`s necessary to analyze this information in detail and divide all activity into two types: productive and unproductive ones. Thus, reporting can be considered as an integral element of the employee tracking software. So, reports about workers' PC usage efficiency are made according to the type of app this worker deals with, visiting the certain sites, etc. In addition to the user activity control, computer surveillance software solves many problems related to data transmission channels and prevention of confidential information leakage. OS registry, hardware, ports, programs and websites use, and much more can be also monitored by staff monitoring software. If the boss disallows working staff to surf the Internet a little bit during the lunch break, it doesn`t necessarily mean that he is a real despot or just covetous. There is a justified reason for doing it. The company computers are exposed to different malicious programs because of unlimited Internet surfing. Actually, most computers can be infected by such unwanted and highly hazardous software.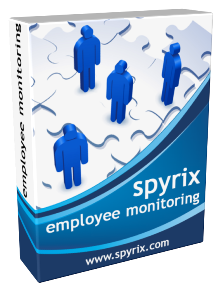 The best employee monitoring software tool
Spyrix Employee Monitoring software represents the best way to remotely control your employees` activity. Moreover, you will get detailed reports about what they actually do during their working hours and such feature of this employee surveillance software will prove its value.
The basic requirements for functionality of employees` monitoring software
The key moment here is matching keystrokes with an active window of the launched app. All the modern keyloggers are based exactly on this principle. It allows to monitor users' overall activity as smoothly as possible.
E-mail monitoring
E-mail monitoring is a process when incoming and outgoing messages pass through the special software filters where they are checked for certain compromised content that could violate employers` policy.
Modern monitoring software must have a function of user's Internet activity control, which includes supervision over popular browsers, registration of all visited sites, duration of visiting, and also control of communication in messengers, chats, social networks, etc.
Monitoring of application launch and files opening/changing/deleting
This is one of the main functions, which includes tracking changes in the monitored system (file system changing, software installation or removal).
Periodic screenshots
Staff monitoring software must monitor employee computer screens and make the screenshots at predetermined intervals.
Control over connection of new devices (external information storages) to a certain PC
In order to prevent confidential information leakage, monitoring software must prevent the attempts to connect new devices to the certain PC. The alerting system can be considered as the baseline minimum.
Monitoring the use of network resources (printers, scanners, etc.)
Distinctions between worker monitoring software and personal pc access control software
In terms of information collecting, staff monitoring and personal pc access control software have many things in common. But when talking about employee monitoring software, we should take into account that dozens or even hundreds of computers can be under control, and the key moment here is centralized management of these PCs and data received from them. That is why most employee surveillance software have a client-server architecture, which allows installing an agent program on the employees` computers, and then all the collected information is transferred to the central server. Thus, the main differences between personal keyloggers and employee monitoring software are related to the program's ability to work within the local network, the ways of storing and processing the information obtained during data collecting, and availability of remote pc monitoring and administration features.
Conclusion
Surely, employee monitoring software should be used only by people who are empowered to do it. If a person installs it on a computer of another user, he should be informed that such an action could be considered illegal.
Overview of the best employee monitoring software for Windows
You can also get acquainted with a comparative table of staff monitoring software by the most demanded functions of such type of products.
Date publication:
Author: Keylogger.Org Team